SEC representatives managed one of the Tracks at the VECS conference. Moderated by director Linda Olofsson and RISE's Stefan Pettersson, the track dealt with battery technology, hydrogen, V2G and more.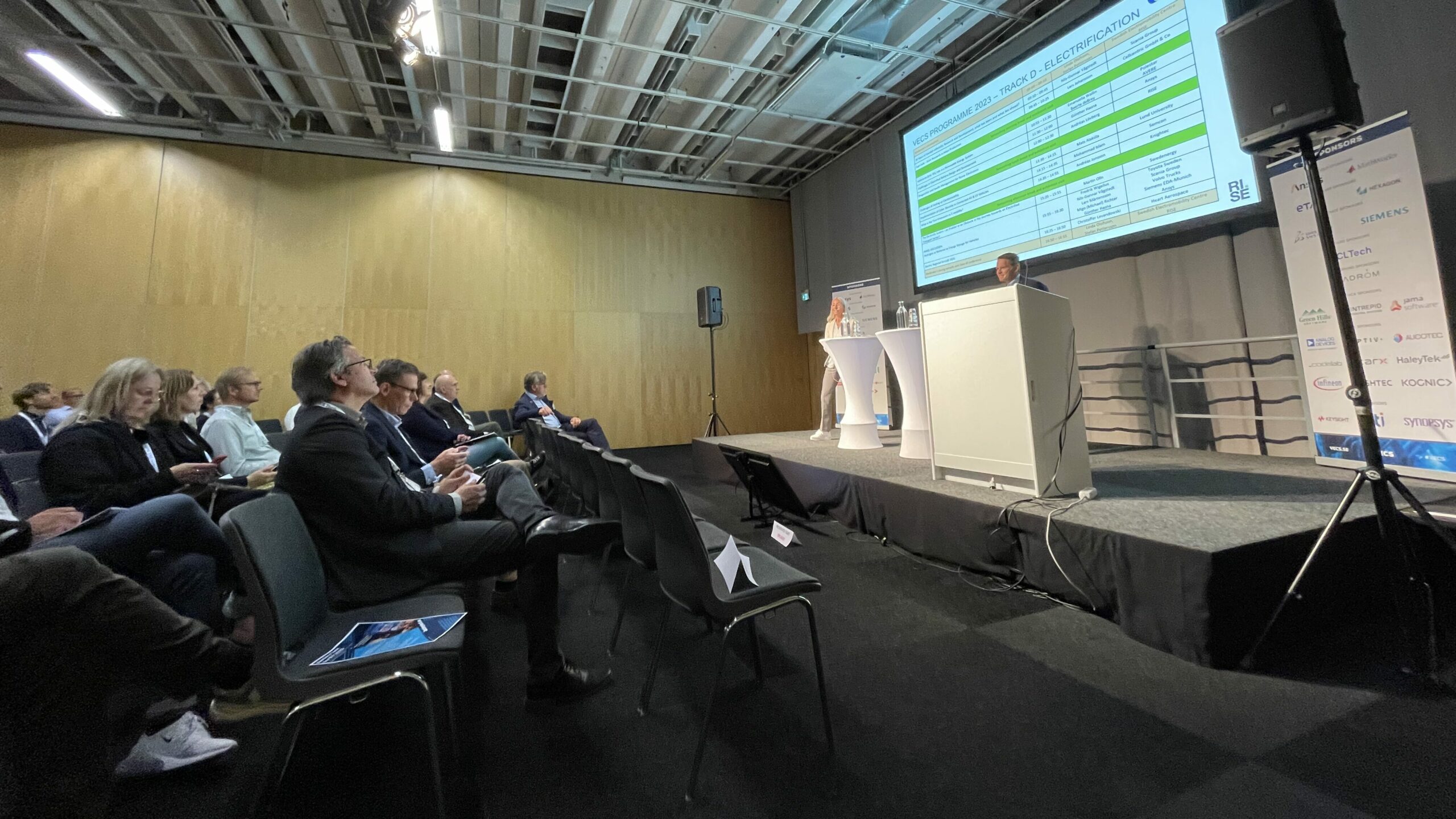 The VECS Conference 2023 in Gothenburg, held on May 23-24, shed light on the next steps in the electric future of transportation. 
SEC's Active Role at the VECS Conference 
During the conference, SEC's Director Linda Olofsson and Stefan Pettersson from SEC's partner RISE served as moderators for a track regarding Electrification. 
"The track contained a good mix of different perspectives of electrification of transportation, with an initiated and engaged audience", say Stefan Pettersson.
"As a national research centre within transport it is important to show our presence at an event that summon many different industries connected to vehicles such as this", says Linda Olofsson.
Keynote Speakers Emphasizing Integration of Electromobility 
Keynote speakers included SEC researcher Mats Alaküla from Lund University and Nils-Gunnar Vågstedt, Chairman of the board at SEC. 
Nils-Gunnar Vågstedt, who is also Senior Expert Electromobility at Scania Group, presented his keynotespeech titled "20 years of eMobility Research and Innovation." He emphasized that the focus is not solely on technology anymore, but also on integrating electromobility into society. Vågstedt also presented SEC's research themes, which cover a wide range of electromobility topics.
Exploring the Role of EVs in Renewable Energy Systems 
Emanuella Wallin, Product Owner Charging Energy R&D and Project Leader for V2G, Polestar, together with Baerte de Brey, Chief International Officer, ElaadNL och Vice President, AVERE, The European Association for Electromobility, discussed the role of EVs in renewable energy systems. Emanuella explained the purpose of vehicle-to-grid (V2G) technology in supporting grid stability and energy transition. She mentioned Polestar's participation in V2X-MAS, an energy storage project. Baerte who collaborates with Polestar in the EU-project SCALE, presented how the project is active on many sites in Europe and developsnew V2G solutions to ensure that EV's can support the electric grid in the future. 
Addressing the Need for More Fast Chargers in Sweden 
During the conference, Mats Alaküla highlighted the need for more fast chargers in Sweden due to the projected increase in electric vehicles. By 2035, the estimation is that there are as many electric vehicles as combustion engine cars out on the roads, necessitating a fast charger every 30 kilometers and one per 100 fully electric vehicles. The challenges lie in the scale and speed of deploying a large number of fast chargers and finding space to accommodate them. He also suggested electric roads as being considered as a potentially faster alternative to building traditional fast-charging stations.