Therese has done an excellent job as coordinator of the doctoral student network, and we wish her all the best in her future endeavors!
"I've been working with the doctoral network for a little more than one and a half years, and now it is time to let someone new take over. It has been great working with all the wonderful PhD students and organise events for them together with everyone at SEC. The PhDs are our future and guiding them within SEC and the electromobility area has been a privilege.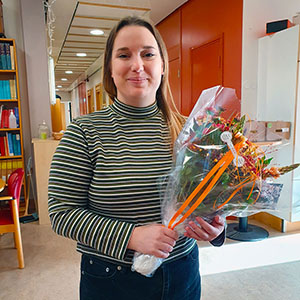 When I started this position, the world had started to open up again after the pandemic, and I had the possibility to organise study visits and courses where the PhD students could meet physically again. I saw how happy they were that this was possible again and was grateful I could make this happen for them. Since then we have organised several courses, summer schools, study visits and dinners in different parts of Sweden, as well as online webinars. And I would like to thank the SEC core team, the theme leaders, the teachers and everyone within SEC that helped me make this happen!
And to the PhD students, I hope you enjoyed the dinners and study visits I organised for you and that you learnt a lot during the courses! Thank you for always gladly joining the different events, both in person and online. We now enter a new phase of the PhD network and it's time for me to leave this position and let someone with new fresh ideas take over. But I'm sure we will see each other again in the future as I'm planning to keep working in the ever so important field of electromobility."
"Thank you to everyone within SEC for this time, but especially the PhD students!"