Alingsås on 7-11 November 2022
Swedish Electromobility Centre and the SEC doctoral student network are happy to invite you to the Autumn School which focuses on components and system studies for electromobility, with an emphasis on electric battery and fuel cell vehicles.
Format
The Ph.D. course is intended for Ph.D. students in the field of e-mobility within the SEC doctoral student network. The Autumn School consists of lectures and practical exercises related to the five themes in SEC.
i) Intelligent Vehicle and Systems
ii) Electric Drives and Charging
iii) Energy storage
iv) Environment and Society
v) Vehicle–Grid Interaction
The lectures will be held by theme leaders and their colleagues, and there are several networking opportunities taking place during the course.
Preliminary programme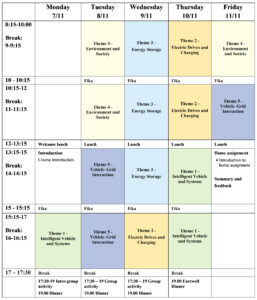 Practical information
Examination and Credits
Examination is based on attendance and homework. Passing the course requires solving the assignments and making a final project presentation. Proposed credits are 5 hp. NB! To apply for these credits within your Ph.D. course curriculum you need approval from your examiner.
Cost and registration
Information will be posted shortly.
When and where?
The Autumn School will run between 12:00 on 7 November and 15:00 on 11 November 2022, and we are looking forward to meeting you at Grand Hotel Alingsås (https://www.grandhotel-alingsas.se/, Bankgatan 1 441 30 Alingsås).
Questions?
For SEC and administration-related questions, please send an e-mail to: phd@emobilitycentre.se
Course content-related questions are best answered by the different theme leaders: https://emobilitycentre.se/research/
When: 7 November,12:00 - 11 November,15:00
Where: Grand Hotel Alingsås
Questions: Please email phd@emobilitycentre.se