Welcome to the Doctoral student network digital lunch seminar, 12:00-13:00, 2 December 2021.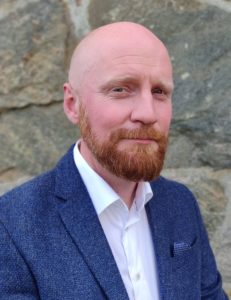 Session Theme: High Power Fuel Cells: Driving the technology shift in the maritime industry 
About Thomas Tingelöf
As Chief Technology Officer, Thomas is responsible for PowerCell Sweden's technical strategy development and implementation as well as intellectual property management. He has a PhD in Chemical Engineering and a broad professional background in fuel cell component and system R&D for a wide range of customer applications.
About PowerCell Sweden AB (publ)
PowerCell Sweden AB (publ) develops and produces fuel cell stacks and systems for stationary and mobile applications with a world class power density. The fuel cells are powered by hydrogen, pure or reformed, and produce electricity and heat with no emissions other than water. As the stacks and systems are compact, modular and scalable, they are easily adjusted to any customer need. PowerCell was founded in 2008 as an industrial spinout from the Volvo Group. The share (PCELL) is since 2014 subject to trade at Nasdaq First North Stockholm with G&W Fondkommission as Certified Adviser.
About the Doctoral student network digital lunch seminars
During these seminars various aspects of electromobility will be dealt with, based on Academy, Industry and Society perspectives. The seminar series will consist of shorter lectures during lunchtime between 12:00-13:00.
We welcome all our partners to attend the digital lunch seminar between 12:00-13:00, 1 September via Teams. Register to make sure you get a seat!
Press here to access the online link: << Join via Teams >>
When: 2 December, 2021 12:00-13:00
Where: Online via Teams. Invitation will be sent later.
Questions: Please email administration@emobilitycentre.se